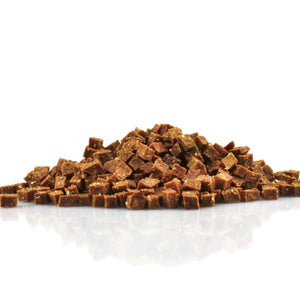 Premium dog snack made of very tender meat in food grade quality
Poultry chews are very healthy and easy to digest, making them the ideal chew treat for every dog. Our Training Treats Turkey are made of 100% best quality, gently dried meat without artificial colourings or preservatives. It's just the right as a healthy reward and to keep the dog occupied, or just as a delicious snack between meals.
The small treats have the perfect size for consumption on the move or during training sessions, because the meat has a firm texture and does not degrease and rub off.
Produced in Germay!
Our Pets Best Training Treats Turkey have a sie of each ca. 1x1cm.
All benefits at a glance:
100% Turkey
No artificial additives
Gluten- and lactose-free
German food-grade quality
Easy to digest
Perfect as reward during training
Ingredients:
This product is made of 100% Turkey, without the addition of grain, chemicals, preservatives or other extenders.
Nutritional content (subjected to natural fluctuations): raw protein 53,8 %, raw fat 25,3 %, raw ash 6,6 %.
Please note that this is a pure natural product, so the size, form and color can differ from the photograph.