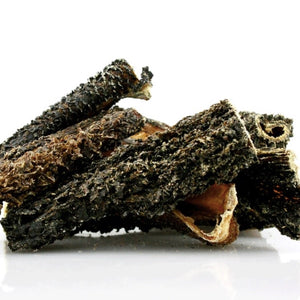 Made of 100% free-range German Cattle Tripe, without any additional additives
Crispy, dried Beef Tripe from Pets Best is ideal as snack between meals and the perfect way to give the dog a delicious natural reward. These single-ingredient dog treats are made in Germany and contain only 100% Beef Tripe from German free-range cattle.
These dog chews are slowly dried – this process gently removes water from the fresh tripe. This preparation means that our dried Beef Tripe is rich in essential nutrients, has an intense scent and can help to support dog's digestive flora. In fact it's the ideal vitamin bomb for every dog breed. The unwahsed green Beef Tripe contains a large concentration of vegetable residues, valuable vitamins and enzymes. These adhering residues are full of Vitamins A, C, D, E, as well as B complex vitamins, essential minerals and trace elements. Plus: They are not just healthy but also a real deliciousness for all dogs!
Of course they are completly free of artificial additives like artificial colouring, artificial preservatives or fillers like grain. That really makes all the difference – a more healthy and delcious treat for dogs is hard to find.
Our Beef Tripe has a length of approx. 14 – 17cm.
All benefits at a glance:
100% Beef
No artificial additives
Gluten- and lactose-free
Highest quality standard
High nutritional value
Low in fat
Easy to digest
Ingredients:
This product is made of 100% Beef, without the addition of grain, chemicals, preservatives or other extenders.
Nutritional content (subjected to natural fluctuations): raw protein 70,1%, raw fat 11,3%, raw ash 4,1%.
Please note that this is a pure natural product, so the size, form and color can differ from the photograph.