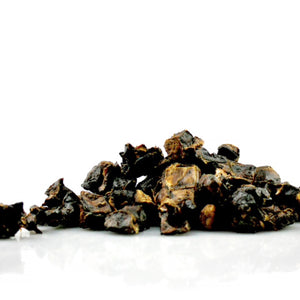 these treats are a loose product 
Beef Lung Bites are the perfect choice for dog owners who want to reward their dogs during training or on the move. The single-ingredient beef lung is prepared slowly with care to remove moisture but lock in the nutrients and flavour every dog love. The light, crunchy Beef Lung treats have no additional ingredients and are naturally low in a fat and high in protein. They are ideal for dogs with sensitive digestion and for overweight dogs. Also the texture makes them a great snack for puppies, seniors, or any dog that is suffering dental issues.
Of course you can trust that they're only natural, high protein, low fat organ meat and contain no added fillers, preservatives, flavors, hormones or additives. Featuring a gentle aroma and great taste, these chews are a great option to feed our dogs as an anytime healthy treat.
All benefits at a glance:
100% Beef
No artificial additives
Gluten- and lactose-free
Low-Fat
Easy to digest
Pleasant smell
Simple to portion
Well-suited for training sessions
Ingredients:
This product is made of 100% Beef, without the addition of grain, chemicals, preservatives or other extenders.
Nutritional content (subjected to natural fluctuations): raw protein 86,0%, raw fat 3,5%, raw ash 2,0%.
Please note that this is a pure natural product, so the size, form and color can differ from the photograph.