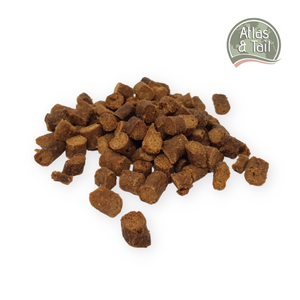 The Atlas & Tail 125g pouch of Chipmix contains a mix of our natural chips. The treats are from 'Train me Wisely' ranges – containing a mix of;
The Chip mix are natural and healthy treats with a high meat content (95%+).
Chips
Atlas and Tail Training Treats range will be your new favourite training tool. They're so good, dogs say they taste like "more".
The Duck & Chicken Chip training treats are approximately 1-3cms wide by 1-3cms long. They are specifically made in bite sized pieces, perfect as a training treat. As these are natural product, their shape, colour, size and weight may vary to some degree.
These are a complementary treat to be fed in moderation, as part of your dog's balanced diet. They are suitable for puppies over 8 weeks of age. Please make sure that fresh water is always readily available. Store in a cool, dark place.