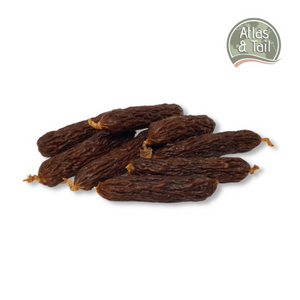 Atlas and Tail Beef Bangers are delicious little beef sausage treats for dogs. They are a highly popular, natural treat that dogs just can't get enough of. Use them as a treat, or break them up into pieces to use them as a training reward.
Beef is a great source of protein for dogs, rich in Zinc, Selenium, Iron and Vitamins B12, B3 and B6.
Atlas and Tail Beef Bangers come in generous 500 gram bags and a handy 200 gram bag. They are a natural product which means that their size, colour and shape can vary to some degree.
These are a complementary treat to be fed in moderation, as part of your dog's balanced diet. They are suitable for puppies over 8 weeks of age. Please make sure that fresh water is always readily available. Store in a cool, dark place.
Crude Protein: 35.60%
Crude Fat: 19.50%
Moisture: 21.80%
Ash: 4.30%