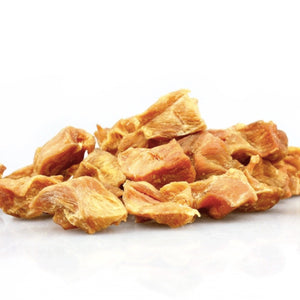 Our Chicken Fillet Nuggets dog treats are a high-quality gourmet snack which can be fed to dogs of all sizes and breeds. These single-ingredient snack is made without using artificial colours or preservatives and only contains the very best poultry meat which has been gently dried. They are very popular with dog and dog owners alike because they have a pleasant aroma (even for us!), a non-greasy texture and a handy, portable size. This sweetens a long walk or a persistent training.
This snack is made from pure human grade chicken fillet meat and contains only one single protein source.
Our Chicken Fillet Nugget dog treats have s a size of approx. 3cm.
All benefits at a glance:
100% Chicken
No artificial additives
Gluten- and lactosefree
German food standard
Low-Fat
Easy to portion
Convenient when travelling
Ingredients:
This product is made of 100% Chicken, without the addition of grain, chemicals, preservatives or other extenders.
Nutritional content (subjected to natural fluctuations): raw protein 69,5%, raw fat 11,3%, raw ash 9,1%, moisture 7,8%.
Please note that this is a pure natural product, so the size, form and color can differ from the photograph.