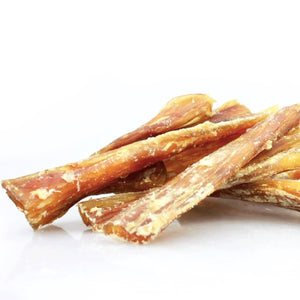 Beef Neck Tendons are the perfect snack for all dogs. They are tough textured, amazingly delicious and will keep the dogs busy and happy for a long time.
 Naturally high in protein and low in fat, our Beef Neck Tendon chews contain no additives, chemicals, or preservatives. They are a great snack for dogs of all ages and sizes, especially dogs who enjoy chewing and require longer-lasting chew treats.
All benefits at a glance:
100% Beef
No artificial additives
Gluten- and lactose-free
High in Protein
Low-Fat
Long lasting chew treat
Helps support healthy teeth and gums
Ingredients:
This product is made of 100% Beef, without the addition of grain, chemicals, preservatives or other extenders.
Nutritional content (subjected to natural fluctuations): raw protein 88,9%, raw fat 3,3%, raw ash 1,4%.
Please note that this is a pure natural product, so the size, form and color can differ from the photograph.