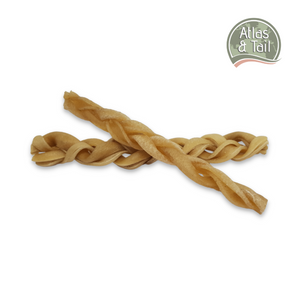 Atlas and Tail Lamb Plaits are scrumptious, gently dried, natural chews for dogs. The way the lamb is plaited creates grooves, making these chews fantastic for helping to clean your dogs teeth and gums while they chew. Don't like smelly dog treats? Well the Lamb Plaits are low in odour, so won't leave any unpleasant lingering smells around your home.
Lamb is a great source of high quality protein for dogs and is full of essential amino acids and dietary fats needed for energy. It's also generally very well tolerated by dogs that are suffering from food intolerances and allergies.
Atlas and Tail's Lamb Plait Chews are typically 13-17cms in length and 1-2cms wide, and come in 100g bags. They are a natural product and not machine made, meaning the shape, colour and size can vary.
These are a complementary treat to be fed. They are suitable for puppies over 8 weeks of age under supervision. Please make sure that fresh water is always readily available.
Composition of Atlas and Tail Lamb Plait Chews:
100% Dehydrated Lamb Skin
Analytical Constituents:
Crude protein: 67.4%
Crude fats: 24.7%
Moisture: 3.5%
Ash: 4.4%