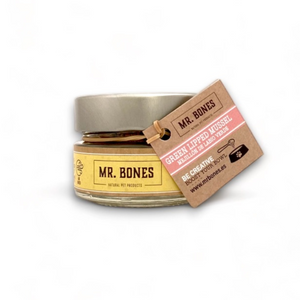 Our Green-Lipped Mussel Toppers are a 100% natural supplement for dogs, made from green-lipped mussels suitable for human consumption, air-dried at a low temperature to preserve all their properties and crushed to a grainy texture. In this way, the green-lipped mussel Toppers become a natural and healthy supplement for your dog, since it preserves all its nutrients, aromas and flavors. Your dog won't be able to resist!
The green-lipped mussel has anti-inflammatory properties, is rich in Omega 3 and will provide your dog with a great supply of proteins, vitamins, minerals and antioxidants.
How to use them?
Enrich and supplement your dog's diet by sprinkling our green-lipped mussel Toppers on their feed, wet food, BARF or Dry BARF. They have a high palatability, so you'll need a small amount to make your dog's food irresistible.