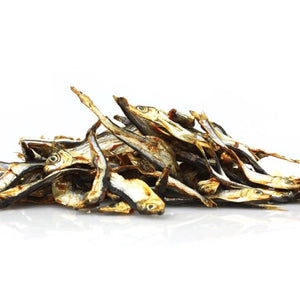 A delicious chewing snack: Our dried Sprats for dogs are easy to handle and beloved by all dogs. They are low in fat but high in Omega 3 and 6 acids and a healthy alternative to usual dog treats.
Because of their handy size they can easily be used for training. They can be broken into smaller pieces for puppies or just given whole.
Tip: Grab a handful and throw them right out onto the lawn. Tracking them keeps a dog stimulated and busy.
The Sprats have a size of ca. 8cm.
All benefits at a glance:
100% Sprats
No artificial additives
Gluten- and lactose-free
High in Omega 3 and 6 acids
High Protein
Easy to digest
Ingredients:
This product is made of 100% Sprats, without the addition of grain, chemicals, preservatives or other extenders.
Nutritional content (subjected to natural fluctuations): raw protein 57%, raw fat 22%, raw ash 7%.
Please note that this is a pure natural product, so the size, form and color can differ from the photograph.